WHAT THE HELL IS POTCHEEN?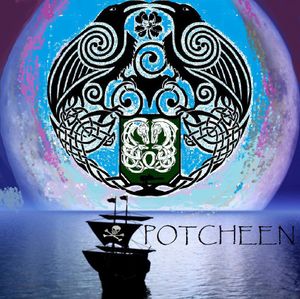 Potcheen (pronounced PO'-CHEEN)  is the original moonshine whiskey brewed in the hills of Ireland. Potcheen in its Gaelic translation means "Little Clay Pot" thats how they brewed it from Potatoes.  

Potcheen was formed  at an Open Mic hosted by the Capn @ Cactus Jack's Saloon in Evergreen, CO,. One night  a tall young Irish lad with big glasses and Red dreadlocks came in and played Shanty's drinking and rebel songs and he Capn was hooked. Thus the band started unofficially in December 2003 as teh "Potcheen Folk band,a four piece with Founding Members Christian Blochinger and Christopher Shelby soon to be joined by bassist Dave LaMothe and Cellist Angela Kimber.  The Capn soon bought a tourbus a 1983 MCI Crusader they named Grace O'Malley, the Pirate Queen and embarked on national tours, gaining sponsors such as Guinness and POCKETSHOTS and The Capn picked up endorsements from SABIAN CYMBALS, Gon Bop Percussion and Rupps Drums. 
By 2007, only 3 of the original  band remained and 2 of them decided the road wasnt for them and decided to form their own local group. The Capn stood alone.. so he graciously dropped the "folk band" tag  when the band underwent its first major reorganization and became POTCHEEN. The Capn got a taste of the road and was addicted. He decided to stick with the pirate lifestyle that suited him and recruited more members over the span of 15 years adding all sorts of instruments and genres including Americana, Bluegrass, Ska, Reggae and Cajun Music to the Celtic Pirate Punk-folk collective

The Band has played close to three thousand shows from Denver to LA. Jackson Hole to Austin TX. New York to Florida, Arizona to Alaska. and everything in between on their tourbuses Grace O'Malley (2004-2009) Black Anne Bonney.(2010-present)  the undisputed Top Celtic act in Colorado, (over 120 weeks at #1 Celtic Rock Band in Denver ~Reverbnation Charts),they continue to play alongside hundreds of the worlds best musical acts from Celtic to Bluegrass, Jam to Rock bands energizing crowds with their high energy foot stomping stage shows. The Potcheen crew is made up of a collection of talents from all over the U.S. fusing musical backgrounds and cultures into one full throttle rhythmic stew. Not just a Celtic band, their wide range of music has allowed them to play with almost EVERY genre of music out there.. 
in 2018 Potcheen relocated to New York City. Joined by former members of some well known East Coast Celtic bands including the PRODIGALS. The capn embarks on a east coast mission to increase his boundaries for Plunder!!!


* Potcheen has performed with:
Charlie Daniels Band                Los Lobos         Michael Franti             Gaelic Storm              Emmy Lou Harris         Lee Brice          Cake                  7 Nations
Railroad Earth                          Les Claypool        Ben Harper           Widespread Panic    Yonder Mt. String Band   Paula Cole     Little Feat           Hot Tuna
Marshall Tucker Band,            Mickey Hart        Tommy Ramone        Sawyer Brown             Billy Nershi (SCI)         Black 47        The Fray     Nate Maxwell (Flogging Molly)
Hot Buttered Rum                    Gaelic Storm    Sound tribe Sector 9  The Young Dubliners,     The Elders              Ben Folds 5     Scythian     Big Head Todd & Monsters

The Prodigals                 New Monsoon       Great American Taxi       Split Lip Rayfield         Magic Gravy          The Gourds,       Rusty Anderson (Paul McCartney)
Bela Fleck                   Enter the Haggis     Derek Trucks Band        John Butler Trio          Cornmeal                  the Motet           North Mississippi All-stars
Grace Potter                         Zilla                 Perpetual Groove,           JJ Grey & Mofro          EOTO                   Joseph Israel             Arrested Development, Eric
Flaming Lips                   McFadden Trio          Tea Leaf Green               Eileen Ivers              McPeake,                  Brother                        Crooked Still
Buckethead                         Galactic               Martin Sexton                  Sam Bush                  A.L.O.                 William Topley                  Glengarry Boys
Ghostland Observatory     Ozomatli          Blue Turtle Seduction           Elephant Revival        Albannach            Mother Hips                     Drunken Hearts
Dirty Dozen Brass band    Euforquestra     Medeski Martin & Wood    Screaming Orphans   Bassnectar             Cornmeal                   Government Mule
Keller Williams              Rev. Horton Heat           The Briidies                   Disco Biscuits       Octopus Nebula         Cracker                    Backyard Tire Fire

AND SO MANY MORE....

*** APPEARANCES ***  

2017: UMS : Underground Music Showcase (Denver, CO). Half Way to St.Pats (Westminster, CO). Northglenn Pirate Fest (Northglenn,CO). Taste of Colorado (Denver, CO.) Global Fest (Aurora, CO) Rock Springs International Day (Rock Springs, WY) Royal Gorge Concert series (Canon City, CO) FoCo Music Experiment (Fort Collins, CO)  Arvada St.Pats Festival (Arvada, CO) 
2016:   Cheyenne Celtic Festival (Cheyenne, WY). Denver Witches Ball (Denver, CO). Northglenn Pirate Fest (headlining) (Northglenn, CO) Pikes Peak Celtic Fest.(Colorado Springs, CO)  Royal Gorge Festival.(Canon City, CO)  Harmony on the Green Concert (headlining) (Fort Collins, CO).  Butte Irish Festival, (Butte, MT). UMX People's Fair HEADLINING (Denver, CO). 

2015:  75th Annual Sturgis Motorcycle Rally ~Whitewood Campground (STURGIS SD) . White Water Festival, (Canon City, CO.), Edgewater Celtic Festival. (Edgewater ,CO) Tuscon Celtic Festival (Tuscon, AZ), Pirate Con (Boulder, CO)  Central City Music Fest. (Central City,CO) Fruita Fall Festival (Fruita, CO),
Rapid City Summer Nights (headliner)(Rapid City, SD). Northglenn Pirate Fest (Northglenn, CO), UMX Peoples Fair. (Headlining) Central City Beer Festival (headlining) . 

2014: Taste of Colorado. Headlining (Denver, CO). UMX Peoples Fair,(Denver, CO)  Colorado Irish Festival, (Littleton, CO)  Westword Showcase,(Denver, CO). South Park KickASS BBQ FEST. (Fairplay, CO)  Sangre De Cristo Music festival. (Pueblo, CO)  Sherwood Forest Celtic Festival (McDade TX), Reggae Worship Fest. (Boulder,CO) Paddy on Pearl, (LOHI ,CO). Saint Patrick's Celebration, (Denver, CO).  Denver St.Patricks Day Parade (Denver, CO.)

2013:  Colorado Irish Festival (Littleton,CO). UMX People's Fair (Denver,CO). Aspen Crash Motocycle Rally (Ruidodso, NM). Central City Music Fest. (Central City, CO). Sounds of Centerra (Loveland,CO). Rock-N-Roll Marathon (Denver,CO).  Denver St.Patricks Day Parade (Denver, CO.)

2012: Sitzmark St.Pats Celebration (Girdwood, AK.) Aspen Crash Motocycle Rally (Ruidodso, NM)  HEADLINING. Cheyenne Celtic Festival (Cheyenne,WY) . Sounds of Centerra (Loveland,CO)  Rock-N-Roll Marathon (Denver,CO). Denver Oktoberfest (Denver,CO) HEADLINING

2011: Eurofest (Hollywood, FL) Fantasyfest (Key West,FL). HEADLINING: Bitteroot Celtic Fest.(Hamilton,MT), HEADLINING Summerfest (Angel Fire,NM.). Headlining Gaper Days. (Jackson Hole Wy).HEADLINING. Breckenridge Celtic Festval. (Breckenridge,CO) HEADLINING. 2nd Annual Hoolie. (Leawood,KS. ). Westword Music Showcase. (Denver, CO). Colorado Irish Fest.(Littleton,CO). HEADLINING Denver Oktoberfest (Denver,CO) HEADLINING Sherwood Celtic Festival (MdDade, TX). HEADLINING Sounds of Centerra (Loveland,CO)  Rock-N-Roll Marathon (Denver,CO) .  UMX People's Fair (Denver,CO). Denver St.Patricks Day Parade (Denver, CO.)

2010:  Telluride Bluegrass Festival. (Telluride,CO).  Denver St.Patricks Day Parade (Denver, CO.) Carbondale Mountain Street Fair (Carbondale,CO).  THC Music Festival (Alms, CO)  Culturefest (Brighton,CO) Gloaming-fest (Evergreen,CO) Wonderland Music Fest (Black Forrest,CO). Inaugural Rapids Soccer Kickoff Concert (Commerce City, CO). Breckenridge Film Festival.(Breckenridge, CO). Sounds of Centerra (Loveland,CO). Rock-N-Roll Marathon (Denver,CO)   Westword Music Showcase. Running of the Green (Denver,CO). Colorado Irish Festival (Littleton,CO). UMX People's Fair (Denver,CO).HEADLINING Denver Oktoberfest (Denver,CO).  Denver St.Patricks Day Parade (Denver, CO.)

2009    Desert Rocks Music Fest (Moab,UT) . Colorado Irish Festival (Littleton,CO). UMX People's Fair (Denver,CO). Summer Fest (Angel Fire,NM) 2009
Conifer Music Festival (Confier,CO).  Westword Music Showcase.  Running of the Green (Denver,CO). Ramble on the River (Mishawaka Amphitheater, Bellview CO). 

2008  Rock the Vote (Denver,CO). Ramble on the River (Mishawaka Amphitheater, Bellview CO). Swallow Hill Folk Festival (Denver,CO). Wakarusa Music Festival (Lawrence,KS).  . Human Rights Torch Run Concert (Denver,CO). Westword Music Showcase.  Running of the Green (Denver,CO). Desert Rocks Music Fest (Moab,UT). Colorado Irish Festival (Littleton,CO).  UMX People's Fair (Denver,CO). Denver St.Patricks Day Parade (Denver, CO.)

2007. Taos Solar Festival (Taos, NM) Wakarusa Music Festival (Lawrence,KS) Highlands Games Festival.(Littleton, CO)  Westword Music Showcase.(Denver, CO) South Park Music Festival (Fairplay,CO). Boulder Bolder.(Boulder,CO). 99.5 the Mt. Homegrown Music Showcase.(Denver, CO) Running of the Green (Denver,CO). Ramble on the River (Mishawaka Amphitheater, Bellview CO). .  . Summerfest Music Festival (Castle Rock,CO).Colorado Irish Festival (Littleton,CO). UMX People's Fair (Denver,CO).  Denver St.Patricks Day Parade (Denver, CO.)

2006:  KBCO Kinetix Parade. (Boulder,CO).  Slainte' Irish Festival (Patchogue,NY). Running of the Green (Denver,CO). (Littleton, CO). Westword Music Showcase. Rockfeast (Denver,CO). South Park Music Festival (Fairplay, CO). Boulder Bolder.(Boulder,CO). 99.5 the Mt. Homegrown Music Showcase. (Denver, CO). Ramble on the River (Mishawaka Amphitheater, (Bellview CO). Summerfest Music Festival (Castle Rock,CO). Colorado Irish Festival (Littleton,CO). UMX People's Fair (Denver,CO). Denver St.Patricks Day Parade (Denver, CO.)

2005: South Park Music Festival (Fairplay,CO). Rockfeast (Denver,CO).  Boulder Bolder.(Boulder,CO).  99.5 the Mt. Homegrown Music Showcase (Denver,CO). Westword Music Showcase.(Denver,CO) Turtle Creek Music Festival (Conifer,CO). Colorado Irish Festival (Littleton,CO).  UMX People's Fair (Denver,CO). Denver St.Patricks Day Parade (Denver, CO.)

2004:  Concert of Hope (Evergreen,CO). Walden Renaissance Celebration(Walden,CO). Evergreen Lakehouse Concert Series. (Evergreen,CO).  Turtle Creek Music Festival (Conifer,CO) . Westword Music Showcase. (Denver,CO) Echo Hills Music Festival.(Evergreen,CO) Colorado Irish Festival (Littleton,CO). UMX People's Fair (Denver,CO).  Denver St.Patricks Day Parade (Denver, CO.)

2003:  Echo Hills Music Festival (Evergreen,CO)


Email: potcheenfolkband@gmail.com

Booking Contact: Jedibongo Production:
     C.J.          Jedibongo@gmail.com 303-748-7078


***TOURING: Catch them on tour: Check schedules and News at…

www.thepotcheen.band 
www.youtube.com/user/potcheentelevision1
www.facebook.com/pages/POTCHEEN/123051425669 www.twitter.com/potcheenpirates
www.myspace.com/thepotcheenfolkband. www.reverbnation.com/potcheen
www.jambase.com/Artists/53623/Potcheen


Press/Reviews:


March 2013.  Jennifer D. Arts Coordinator. Alyeska Resort. Girdwood, AK. We flew our this infamous troupe of Celtic Pirates based on tons of requests for them and we were not disappointed.  They sold out three nights at the Sitzmark and had the entire mountain shaking. The Northern Lights were aglow and Colorado was represented with Gusto. We are hoping to make this an annual event.

November 2011. Lili G., Festival Coordinator. EUROFEST. Hollywood,FL.
Potcheen were professionals from the minute they got here and worked with our staff and went beyond our greatest anticipations. The Audience loved them and they had he whole amphitheater up and dancing at song one. Cant wait to get them back next year.

October 2011. The Green Party: Fantasyfest Key West, FL. (Finnegan's Wake)
We couldn't have asked for a more perfect band to host our biggest event of the season. How they fit their band onto our small stage and still blew the doors off was beyond me. If you can hire these guys..you wont be disappointed.

September 2011. Zane B., Director of Sherwood Celtic Festival. McDade,TX.
The band was amazing, they hit the ground running and didn't stop til after the sun went down and everyone was panting and sweating. Hope to get em back here again next year.

September, 2011. Aaron Sapiro Human Movement LLC. ~ Denver Oktoberfest, Denver, CO.
For the second year we had Potcheen headline the Downtown event and they Rocked the thousands of people who turned out until they dropped. Amazing energy.
.
March 2011. Karl Kumli, KGNU Radio Boulder,CO. The Colorado Irish Festival, Littleton,CO.
I was a the Colorado Irish festival when we noticed the entire fairgrounds was migrating towards the Jamerson Pub Stage. As we got closer we heard Potcheen rocking and the tent was overflowing with people trying to get inside. The Energy was unbelievable and they Rocked so hard the ground was shaking. Best band of the evening hands down!

April 2010. Celtic Examiner: Michael Thompson 
Potcheen is the ultimate party band and they really showed their stuff at this party. Potcheen is the Irish word for moonshine, the raw whiskey that comes from an illicit still, and this music is as raw and real as it gets. The band plays pub standards, favored by every Irish band to hoist a pint, but they play them with energy, enthusiasm, and expertise. Every one of these people is an accomplished musician. Together they hold crowds in the palm of their collective hand with some of the finest Celtic rock
you're ever likely to encounter.

July 2009 Celtic Examiner: Michael Thompson
There was an incredible array of fine Irish music at the Colorado Irish Festival this year, but in my opinion, local Denver band Potcheen outshone them all. It's astounding that I can say that, when such big name bands as Gaelic Storm headlined the festival. While the Elders were holding forth on the main stage, Potcheen still managed to pack the pub tent with screaming fanatics, who danced and sang and joined in the fun with manic fervor and energy. Everyone from little children to their parents, middle aged and older couples and everyone in between was up and dancing by the end of their performance. For sheer mind-blowing audience interaction, these people are second to none. The Elders were amazing, Brother was astounding, McPeake rocked the crowds, Eileen Ivers helded them enraptured, and Gobs O'Phun had them rolling in the aisles with laughter, but Potcheen just blew them all out of the water.

August 2009. Colorado Music Buzz Entertainment: Charlotte D Aberrant
Ay, mateys! Get ready to swill some rum and/or bourbon and have a swashbucklin good time! The new offering from Potcheen proves to be as much fun as it is gregarious. Yes, I know gregarious is an odd word for an album, but appropriate here in the sense that this album reaches out, grabs your face and gives you a big sloppy, wet, sailor kiss.

July 2008. Metromix.com : Laura Kelley
It's not every day that you get hijacked by a bunch of scallywag pirates and live to tell the tale, but that's exactly what happens when you jump onboard the pirate
ship Potcheen.

November 2008. The Celtic Connection: Pat McCullough
Potcheen is a highly spirited group of musicians who play a unique style of Celti-Pirate-Folk-Rock. They pride themselves on songs of Irish rebellion, love ,
immigration and drink. Brace yourselves – this is not your Grand Dad's Folk Band!!!

August 2007. Dan Sherman: Director , Taos Solar Festival.
Those boys turned a deluge into a full fledged party. People were talking about them all weekend. One of the best bands of the festival holding their own alongside
Los Lobos, Michael Franti, Big Head Todd , William Topley and Paula cole.

August 2007. KBPI  The Uncle Nasty Show: Matt Need
These guys freaking rock!!! They made the entire 8000 person crowd at the Taos Solar Festival return to the vacated field when a monsoon ensued, dancing and clapping in the rain, Backstage the guys from Los Lobos were saying "we gotta follow that?" .

September 2007. Matt Fecher Director South Park Music Festival.
They drew on of the largest crowds of the weekend with close to a thousand rowdy folks cramming into the Legion Hall. After the doors were closed due to being over capacity, they started coming in through open windows dancing on the tables

September 2007. C.R.Stamm Colorado Gazette.
After seeing and photographing the 140 different bands throughtout the South Park Music Festival, I can truly say that Potcheen was one of the top acts I saw, their energy was unbelievable, the response from the crows was unlinke anything I saw all weekend. They slayed the crowd.

July 2006. Carol Quinn. Director Colorado Irish Festival.
Potcheen is one of my favorite bands in Colorado. They simply are one of the funnest and most energetic acts around. A crowd pleaser for sure. Their debut at the 2005 CIF drew in huge crowds normally associated with the main stage headliners.

April 2006. Canyon Courier Magazine. William Bergner
Grab a pint and lend an ear to the high energy pirate punk folk band POTCHEEN. Youll find yourself doing a jig in no time.

December 2005  Colorado MUSIC Buzz magazine: Rob Williams
Surrounded by Celtic Tapestries, pirate flags and endless pints of beer, this band can make any room into a little slice of IRELAND combining traditional Irish themes (drink, love & politics) with a punk attitude and a rapid fire delivery that's sure make your toes tap and your throat gasp for a Guinness.

October 2005. Westword Magazine: Dave Herrera, Editor.
Potcheen was awesome!!! With a sound akin to Flogging Molly and The Dropkick Murphys, Potcheen transformed a quaint little mountain town tavern into a frolicking Irish Pub. Go see this band and have the time of your life!

Sponsorship / Endorsements
Guinness.             
Sportkilts:
Sabian Cymbals
Rupp's Drums
Gon Bops Percussion:
BHI. LLC.


Discology:
2013: " Take No Prisoners"
2010: "Live in Carbondale"
2009: "Steel Blue Sea"
2006: "Up She Rises"
2004 " Bottom of the Bottle Battle"
2003 " The Potcheen Folk Band"